~ An Hour With You~


WHAT THANKSGIVING MEANS


Thanksgiving is for blessings
For which we receive.
Our thanks to you for freedom
And the power to believe.


Lord we stand before you
And offer up our thanks
For all the gifts you freely give
As we climb up in your ranks.


Thank you Lord for our lives
For our family and friends
We thank you for your boundless love
To which it knows no ends.


We thank you for our bounty
And for the feelings that we share
We thank you for your kindness
And are grateful you are there.

©Rebecca Ann Rence
11/05/04
E-mail
Thanks to Dynamic Drive for the script that floats our leaves
Music: "In The garden"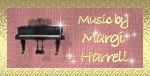 Used With Permission
Webmistress~LadyGayle