~ An Hour With You~

We Must PEIRASMOS


So our trials and testings
will refine us
like pure gold.
We'll mature
then image Jesus' mold.


If our focus truly
is attentively on Him,
we will HYPOMONE
in calmness and self-control,
and our future's not cloudy or dim.


Then we'll become aware
of Jesus' TELETOS for us.
We'll understand our purpose.
His glory we'll share.


Carol Dee Meeks
March 2004©

EMail
Music Playing is "Hope" From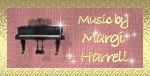 Webmistress~LadyGayle