~ An Hour With You~


HOW CAN I SAY THANK YOU?


HOW CAN I SAY THANK YOU FOR ALL YOU HAVE DONE?
THERE ARE SO MANY BLESSINGS EVERYDAY THAT COME
MY LIFE IS NOT WORTHY OF THE MERCY YOU SHOW
HOW CAN I SAY THANK YOU FOR ALL YOU BESTOW?


SINCE I CAME INTO THIS WORLD YOU HAVE PROTECTED ME
THE MANY PLACES I HAVE STRAYED AND YOU KEPT ME
EVERY DAY IS A NEW DAY WITH YOU HOLDING MY HAND
HOW CAN I SAY THANK YOU, FOR HELP TO WITHSTAND?


ALONG LIFEíS WIDE ABYSS, YOU SHELTER ME FROM HARM
YOU PUT SHELTER OVER MY HEAD, AND HOLD ME WITH YOUR ARMS
THE DANGERS ON MY PATHWAY ARE ALL PUSHED ASIDE
THE PASSION THAT YOU HAVE FOR ME, YOU CAN NEVER HIDE.


HOW CAN I SAY THANK YOU WHEN TRIALS SEEM SO SMALL
YOU TAKE THEM FROM MY LIFE AND DESTROY THEM ALL
ONE CANNOT MEASURE LOVE IN DEEDS AND WORDS SAID
HOW CAN I THANK YOU FOR ALL THE WAYS YOU HAVE LED?


YOUR GRACE IS IMMEASURABLE, YOUR MERCY SO DIVINE
ALL THE ADJECTIVES IN THE WORLD COULD NOT DEFINE
THE GREATNESS AND THE MAJESTY OF YOU MY LORD
HOW CAN I THANK YOU FOR THINGS THAT EARTH CANíT AFFORD


ALL THE SILVER AND GOLD WOULD BE BUT A TINY PORTION
OF TREASURES THAT WE HAVE WAITING, OUR BRIDEíS FORTUNE
FOR YOU AS OUR GROOM WILL WELCOME US HOME UP THERE
WHERE FOREVER WE WILL PRAISE YOU FOR ALL WE WILL SHARE.


AND THEN WE WILL THANK YOU FROM DAY TO DAY
FOR NO DARKNESS IN HEAVEN WILL EVERY TAKE PLACE
THE LIGHT OF YOUR FACE, WILL BE ALL THAT WE NEED
WE WAITING OH FATHER FROM THIS OLD WORLD TO FLEE.



WRITTEN BY SHIRLEY BARR
APRIL 26, 2004

Website


REVELATIONS 22: 17 - AND THE SPIRIT AND THE BRIDE SAY;
COME. AND LET HIM THAT HEARETH SAY, COME. AND LET HIM
THAT IS ATHIRST COME. AND WHOSOEVER WILL, LET HIM
TAKE THE WATER OF LIFE FREELY
20: HE WHICH TESTIFIETH THESE THINGS SAITH, SURELY
I COME QUICKLY. AMEN. EVEN SO, COME, LORD JESUS.


Music Playing is "His Amazing Grace" From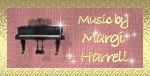 Webmistress~LadyGayle